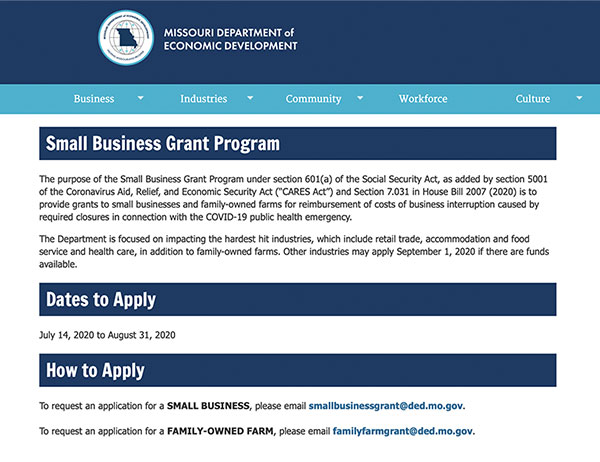 We are wrapping up another tax season with tax day on July 15. We are also still working with our business clients; many of whom have had to close or partially close due to COVID.
The state of Missouri recognized that the closures have brought about a hardship for businesses. The Department of Economic Development has introduced the Small Business Grant Program. This program has factored in $30 million for small business and $7.5 million for family owned farms. Grants are initially limited to $50,000. Application for the grant were being accepted as of July 15, 2020.
To qualify for this program you must be a small business or a family owned farm. Additional requirements include:
Business must have incurred costs due to COVID between March 1, 2020 and November 15, 2020.
Employs 50 or fewer employees including owners
Be located in Missouri
Incorporated in Missouri (exception for family farms)
Registered to do business in Missouri and be in good standing with the Secretary of State (exception of an unincorporated family farm)
Complete and submit Form 943 to obtain a tax clearance certificate from Missouri Department of Revenue for each owner and the business.
Must not employ illegal workers and must provide proof of enrollment in E-Verify
Register as a vendor with the State of Missouri through the MissouriBUYS web portal.
For more information and to get an application please visit https://ded.mo.gov/content/small-business-grant-program.

---
The Wassman CPA Services website and blog is meant to offer general information to our readers. The information provided is not intended to replace or serve as a substitute for any accounting, tax or other professional advice, consultation or service. You should contact Wassman CPA Services for advice concerning specific matters prior to making any decisions.