Vote Yes for Amendment 4
I will start by saying I typically don't push for people to vote one way or another; however, considering what the amendment is and how it would affect all of my clients in one way or another I felt that this subject might be worth mentioning to my followers.
What is the Amendment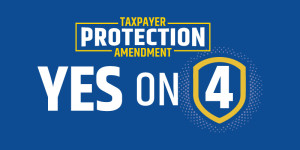 ?  Amendment number 4 would amend the Missouri Constitution to eliminate the state or any local governments from collecting sales or use tax on services. We currently do not have sales tax on services and the amendment would protect us from having such taxes in the future. Services that could be subject to sales tax in the future include but are not limited to: haircuts, doctor bills, daycare, landscaping, accounting, funerals, and construction. There have been proposals in the General Assembly to assess sales and use taxes on services but so far none have made it to law. By saying yes you would be saying politicians can no longer make such laws. There are some surrounding states that have implemented sales and use tax on services already, don't let Missouri be another.
Who would be affected?  The future You. Currently because we do not have this tax in place there is no financial gain or loss to the individual or the government. What could happen in the future? There could be sales and use taxes imposed that would cut into your budget for services you need on a regular basis.  Also for many of those service providers additional costs could be incurred in billing, collecting, and remitting those taxes which in-turn would raise your price (before tax) for those services.
My reasons for the support of Vote Yes for Amendment 4 are geared towards my clients. Many households live based on a budget and if taxes were imposed for services this would only make budgeting that much more difficult for those households.  Income will not go up because sales tax is assessed but the sales tax being assessed makes expenses go up. Also service businesses would need to change the billing and tracking of their sales to include additional charges for sales tax. They would need to implement not just charging the sales tax but also remitting the sales tax. Small service businesses would need to learn when that reporting is required and what exactly is required.  For many small businesses this would be a difficult implementation.
Let's keep sales tax limited to products, and keep our services sales and use tax free by voting yes for Amendment 4.
For more information on why you should vote Yes, visit —  http://motaxpayerprotection.com/

---
The Wassman CPA Services website and blog is meant to offer general information to our readers. The information provided is not intended to replace or serve as a substitute for any accounting, tax or other professional advice, consultation or service. You should contact Wassman CPA Services for advice concerning specific matters prior to making any decisions.